The Hideaway…Saturday 12th August 2017
Saturday 12th August 2017, saw IDMC take the stage of the award winning Hideaway Jazz Club in south London.
From prior knowledge Bazil Meade and the London Community Gospel Choir (LCGC), are the only other gospel act to have had performed there three years prior, therefore to John, it was important that the lead up, communication and preparation was right for this gig.
This proved to be so, with support given to IDMC from agent Graeme Mall, assistance from the venue, increased production rehearsals and tickets selling well, it all helped put a spring in the step of IDMC as they prepared a sixteen song show set.
John envisaged, taking the visitors on a journey through the music of IDMC covering their well known, popular songs. Who knew that when John was to ask how many people were seeing IDMC for the first time, that half of the audience would put up their hands!
The show that had sold out the day before was standing room only. The atmosphere was on point, the audience had eaten a hearty meal, and were ready to party!
John was joined on stage by a fourteen piece choir that consisted of ten vocalists, a four piece band and John, so room on the stage was pretty tight!
From the first track which showed off the vocal talents of long time member Courtney Hoilett, the stage had been set for a groovy, soulful, gospel experience and judging from the big smiles and positive responses to every song, delighted the audience.
John took a moment to celebrate the anniversary of the 55th Jamaican Independence by doing a version of the Jamaican national anthem which had Jamaicans and non-Jamaicans alike standing to honour the anniversary.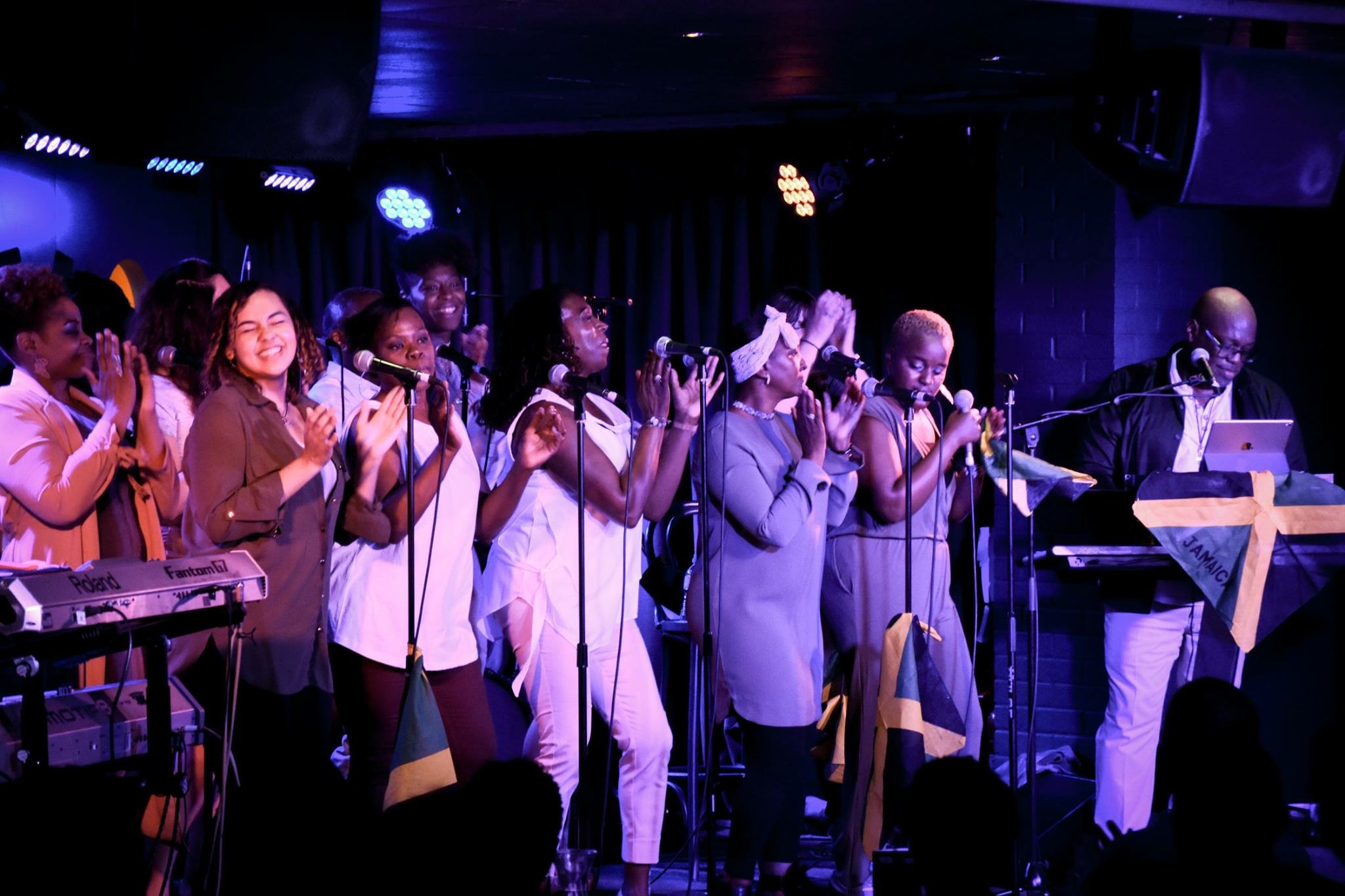 As a mentor, John regularly shares his platform with up and coming artists and on this occasion, allowed assistant choir director, Shantéh to showcase one of her songs.
The first half ended on the big funk jam 'Soul Food' which not only boasted the vocal power of the choir, but also showcased the skilled band of musicians that IDMC are so proud to work with, which was headed by John's sons Andre and Dayna Fisher.
The second half started cool enough and then exploded into IDMC's version of US gospel icon, Hezekiah Walker's classic song 'Power Belongs to God'. The temperature on stage and in the audience continued to soar to the high 90's!
Another high point in the show was the special guest appearance of long time friend, UK based, and well known on the gospel scene Junior Robinson. His soulful tone was an instant hit with the audience.
The banter between John, Junior and the audience was hilarious and led to another pinnacle in the show as together they delivered a masterful version of Rev. Al Greens' classic, 'Let's Stay Together'.
The IDMC classic 'Victorious' finished a perfect night of music. John and IDMC have set the bar very high for gospel music, in what is an award winning venue, and notably earning them a return there very soon…